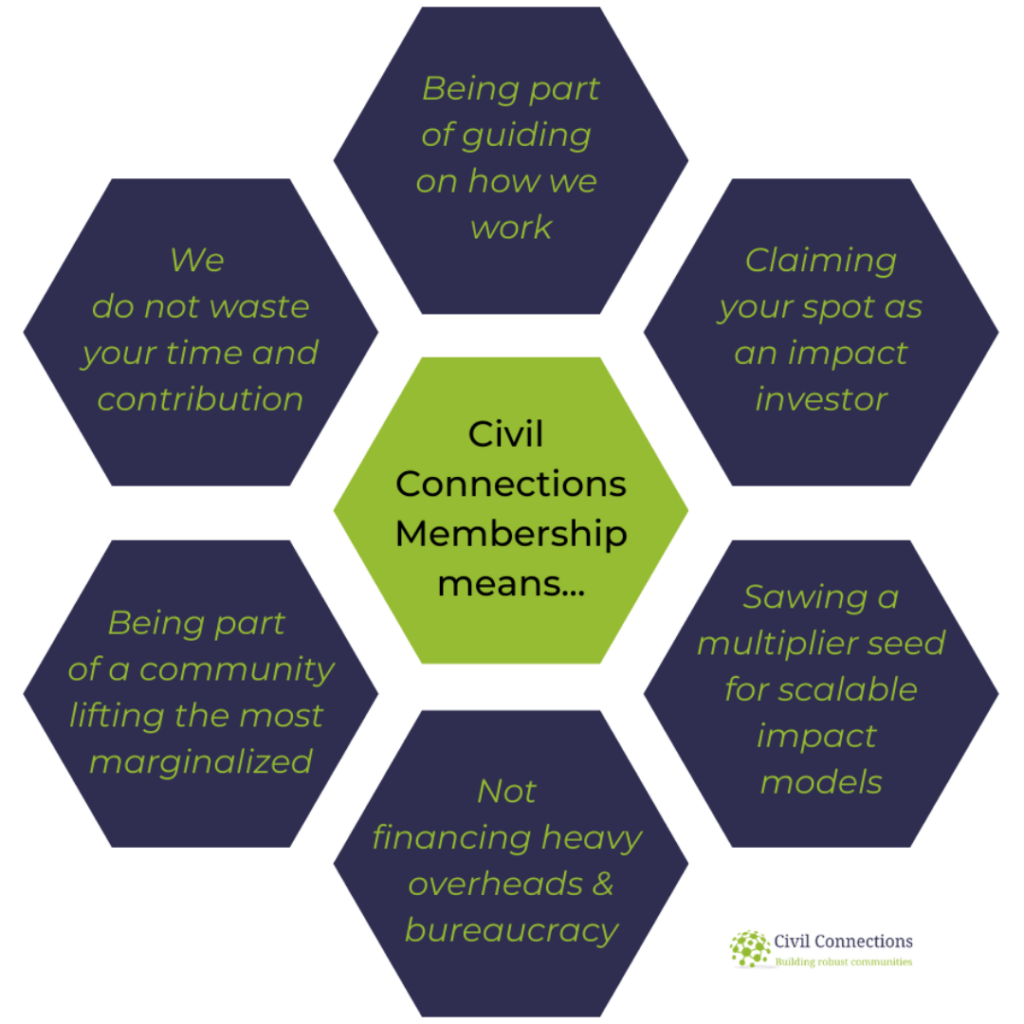 We are glad you have joined us 🙂
Welcome to Civil Connections…
As a member you now have access to the following:
Receiving our tailored Civil Connections newletter in your inbox. It comes only 4 times a year.
You get to be among the first to receive insider updates about arrangements, events, etc.
You have free access to our meetings, as well as the right to vote at these.
You also get a membership account link (here) where you control your subscription.
And many more benefits…
Welcome on board…
Your contribution is already at work with the following projects:
For 2021-2023 your contribution goes to the following:
1. Establishing rural community ICT centers to bring connectivity as well as formal and non-formal learning resources to marginalized communities.
2. Supporting women micro-entreprize groups in Uganda, Zambia, and Zimbabwe to grow their capital, andprovide for their families and local communitie.
3. Modeling alternative learning environments for out of school children e.g. street children and homeless orphans, through working with a group of elementary school teachers in Uganda.
4. Establishing and supporting out of schools Youth mobilization, talent development, and skills capacitating clubs and soccer leagues in Uganda, Ghana, Zambia, and Zimbabwe.
And we mean it, We value you and your contribution
Choosing a membership with Civil Connections ensures that you are part of:
A global network of passionate and determined global citizens that are committed to reaching the most marginalized and creating enabling environments for development.
You are working with a group of activists that have wide and varied experience within the development field and have through their careers been witnesses to what works, and the importance of open dialogue about this. You also because a central player in this dialogue.
We are committed to developing models that are easy to replicate and retailor to different contexts. This means that you support will create wide and long-term impact – you are supporting something scalable and sustainable.
Our model is lean, saving you from supporting unnecessary overhead costs. We emphasize impact at the heart of your support thus working directly with recipient communities. This reduces the middleman effect and related expenses.