We at Civil Connections value the UN SDGs or Agenda 2030 as a fundamental framework for ensuring that the most marginalized also gain enough focus in nthe development agenda. This is because, over 190 partner countries have now developed detailed targets and indicators on how we can follow up on these.
Our job as partners in this agenda now call on us to localize, contextualize, support, and monitor how our local communities interact withe the goals.
In this regard, Civil Connections work over the next five years, starting with our strategic targets will be informed by themes of the Sustainable Development Goals/Agenda 2030. And specifically fall under 6 goals namely, SDG 1, SDG 2, SDG 3, SDG 4, SDG 5 and SDG 17. Below is a snapshot of how we match our strategic objectives to the SDGs.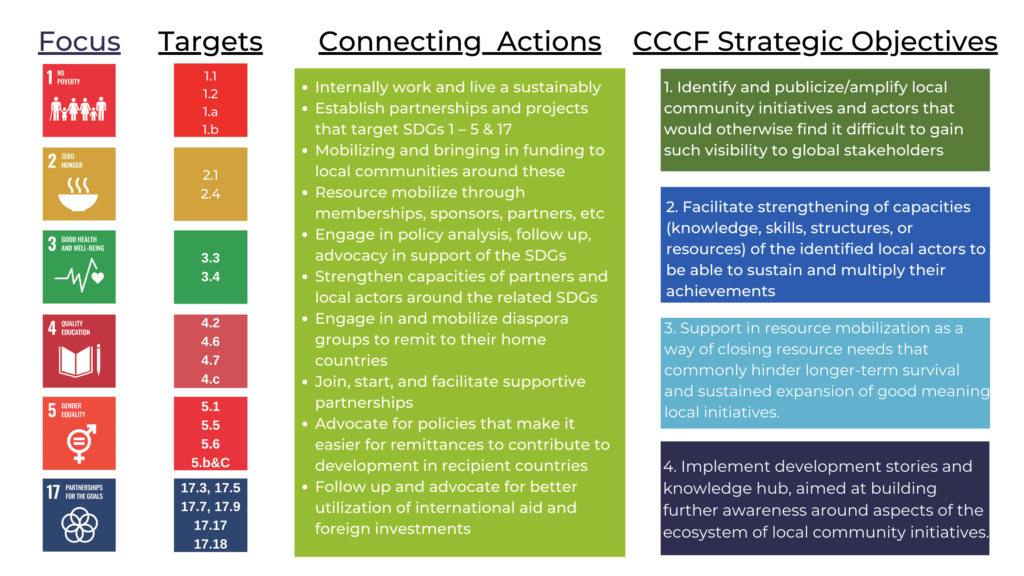 Read further about how we work based on the SDGs in our strategy – here…
Learn more about how others are working with the SDGs
We have below gathered some interesting sources of inspiration and good practices we can learn from as we complete the design of the customized module project for our members.
If you have an SDGs source that you believe can motivate others please send it to us. And if you are interested in learning more about us, get in touch with us, we are always open to inspiration and partnerships.
Verdens Bedste Nyheder
Verdens Bedste Nyheder er et uafhængigt medie, der laver konstruktiv journalistik og kampagner om fremskridt og løsninger på verdens udfordringer.
The SDG Academy
The SDG Academy creates and curates free massive open online courses and educational materials on sustainable development and the Sustainable Development Goals.
Global Solutions Forum (GSF) 2019
The 2019 inaugural GSF convened 10 inspiring SDG actors for rapid-fire presentations where they shared progress, highlight victories, and inspired all of us to keep moving forward. Each Global Solution presentation packed challenges and discoveries into 7 minutes of stories, images, and insights.
Sustainable Solutions Development Network (SSDN)
A network of networks that are committed to supporting the implementation of the SDGs at local, national, and global scales. To this end, we are building a global network of universities, research centers, and other knowledge institutions to translate the latest expertise in sustainable development into action.
SDGs in Action APP
The SDGs in Action app has been developed to highlight the Sustainable Development Goals - the world's to-do list to end poverty, reduce inequalities and tackle climate change. It is brought to you by the GSMA, which represents the interests of nearly 800 mobile operators worldwide, and Project Everyone, a non-profit global campaign to spread the messaging of the SDGs.
The World's Largest Lesson
A subpage of www.globalgoals.com dedicated to schools. Its aim is to introduce the Sustainable Development Goals to children and young people everywhere and unite them in action.