Civil Connections Community Foundation (CCCF) is committed to an equal future for all and recognizes that promoting gender equality and the empowerment of women and girls is central to achieving the UN's 17 Sustainable Development Goals. Where are we today? A major report on the state of gender equality in 129 countries reveals that nearly 40% of the world's girls and women – 1.4. billion – live in countries that fail in gender equality. In other words, four out of five women continue to suffer from discrimination, unequal rights, and opportunities. We are just 9 years to go until 2030 and we have not yet achieved full gender equality across the globe. This article introduces the major barriers to progress and what is an effective approach in securing equal rights and freedoms for women and girls worldwide.
No country has yet achieved gender equality as envisioned in the 2030 SDG Agenda
The 2019 global report 'Harnessing the power of data for gender equality', published by Equal Measures 2030, introduces the ´SDG Gender Index´. This index is the most comprehensive tool available to explore the state of gender equality across 129 countries, 14 of the 17 SDGs, and 51 targets to issues inherent in the SDGs. According to the index, the average global score was 65.7, where 100 is full equality.
Not a single country received an "excellent" score of more than 90, but as usual, Scandinavia topped the list of good countries, with the highest mark going to Denmark (89.3). 40% of the world´s women and girls live in countries with scores of 59 or less marked as "very poor". Another 40% live in countries with scores of 60-69, marked as "poor". Almost all of the ten lowest-ranking countries are in Africa, where fertility rates remain very high.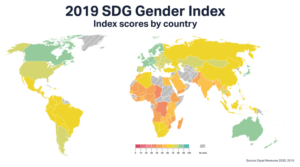 Source: Equal Measures 2030, 2019
The most neglected SDG
Worryingly, the report found that the standalone gender equality goal (SDG5) is among those the world is most behind on. Just by looking at the highest-ranking countries like Denmark, where everybody proudly agrees "we are very equal", has awakened to its reality. Read about recent events and the #MeToo moment in Denmark and vigorous debate about workplace sexual harassment here. There is a lot more work to do even in high-income countries, particularly on issues such as equal representation in leadership positions, gender-based violence, and gender pay gaps. While women in the developed countries are waging great battles over gender bias, women and girls in developing countries are still focusing on smaller victories.
Barriers to Equality
The situation is much worse in the world's poorest communities where poverty, hunger, and patriarchal tradition remain the major obstacles to gender equality. Obstacles such as child marriage, childbirth, and household responsibilities prevent women and girls from fully participating in education and the workforce.
According to the International Institute for Applied Systems Analysis, globally, one in four girls does not attend secondary school and one in five girls is married, or in a union, before turning 18. While women with no education have on average 5.4 children, those who have completed secondary education have 2.7. Further research shows that women who have achieved a secondary education earn almost twice as much as those who have not, which reduces the risk of early marriage and childbirth, household responsibilities, less population growth, and in turn, bigger investments in the education and health of individual children.
Yet, one of the most effective ways to progress in gender equality is by access to quality information, education, and sufficient funding. Positively, over the past years, there has been an increased number of international institutions, global corporations, aid agencies, donors, governments, non-governmental organisations, and private sectors investing and creating programs to empower women. However, the struggle of today is:  How can leaders most effectively deploy the millions of funding that they are spending on women's empowerment?
Need for more collaboration with Grassroots Women's Organisations
To date, much of the funding for women's empowerment work comes from institutions, foundations, and companies – most of them are based in the Global North. Even though some have local offices in developing countries and play a critical role in women's empowerment,  they often lack the deep local experience and knowledge. As a result, this work tends to reflect donor-recipient relationships, which limits its effectiveness.
On the contrary, grassroots women's organisations (GWOs) operate in a single country or region in-country and advance women´s rights on multiple fronts, which typically involve the following activities: education about legal rights and political participation; skills training for economic empowerment; access to, and education about reproductive and maternal health care; advocacy with issues such as property rights and sexual violence.
While politicians can remove legal barriers from the top, governments and global institutions must adopt approaches that address women 's inequalities in a more fundamental way. One way of doing so is to work with Grassroots Women Organisations (GWOs).
GWOs offer many advantages as partners
By partnering with GWOs, all stakeholders are learning to value listening to girls and women in the communities where they operate. Inspired by what parties hear, many of them can expand their women's empowerment programs in ways that effectively address the issues in the community with its specific needs whilst taking into account the local cultural and political circumstances. The following example illustrates such a partnership with a GWO can take a wide range of forms.
Since 2013, Project Soar empowers teenage girls from across Morocco through empowerment workshops, academic support, and girls leaders clubs. The project helps girls to develop skills and confidence, and put their leadership abilities  into action within their local communities.
In 2019, Project Soar expanded its core program and launched new initiatives in 5 high schools in Kampala, Uganda, through a new partnership with the Ugandan Open Space Centre. Through the partnership and commitment of the United States, Moroccan and Australian Governments, Project soar was able to scale its empowerment program in 34 youth centers across Morocco. Moreover, among individual donors and supporters from the business sector was Netflix.
To date, they trained 134 local female facilitators and educated over 3000 teenage girls who are able to make an informed decision about their lives and build on their positive experience.
"I was thinking about dropping out of school and my parents suggested that I get married. However, I learned about Project Soar and after joining, my idea completely changed. Now I´m going to finish my studies and apply for university. " – Chaime, 19 years old from Taroudant.
To sum up, the advantages of GWOs as partners are:
Trusted Community Members with a developed deep and broad network in the communities where GWOs operate and a high level of trust among members of these communities
Culturally grounded players understand the cultural, religious, social, and political obstacles to make a change, and many of them have been working for years on strategies to lower these specific barriers
Experienced navigators as many have extensive experience in steering their way through local and national politics and securing the support of those in power.
Program providers, GWOs have a broad appreciation of the multi-faceted issues that can affect the ability of girls and women to fully participate in society. They often offer programs that address those specific issues and create programs that cover skill development, education about legal rights, access to maternal and reproductive health care, among other topics.
Cost-efficient partner and efficient service provided in comparison with most European and American NGOs, because they operate within the cost structure of their country, and often they effectively use a local volunteer to supplement the work of paid staff members.
Collaborate Locally, Empower Globally
Governments and companies have proven that working with GWOs can be a powerful and effective way of a partnership with a united effort to advance women's rights at a grassroots level. Taking this approach, all partners can magnify the impact of women's empowerment programs not only on the lives of girls and women but also on the long-term well-being of their families and local communities. Cooperation between all stakeholders must continue and recognition of supporting more grassroots is crucial to further advancement of women's rights.
We are way off track to achieving gender equality by 2030. This goal is unique because meeting it is key to achieving most of the other 17 SDGs, therefore it does not make sense for it to be one of the most neglected ones. As stated by UNFPA Goodwill Ambassador Ashley Judd, "If we invest in girls and women, the world and all of the 17 Sustainable Development Goals will advance rapidly as a result."  So, what are we waiting for? World leaders, institutions and environmental organisations, corporations, and companies must join together in calling for the empowerment of girls and women as a priority direction towards a happier – more sustainable world.
Visit Empowerment Journey here: http://empowerment-journey.com/